Meet Our Donors
A Ringing Desire To Give
The sound of the Bearkat Fight Song resonates through campus at 8 a.m. and 5 p.m. daily from the 65 foot bell tower that now stands in the center of campus.
That tune, among the many the tower can play with its chimes, will hopefully serve as a reminder for alumni of their times at Sam Houston State University and inspire both students and alumni to give back to the university, said Ron Blatchley, an alumnus whose donation led to the building of the tower.
"The whole purpose behind the bell tower was to create something that encourages people to give back to the university that has given so much. It doesn't have to be millions and millions of dollars; it's the giving that is important," Blatchley said.
"We don't really pay for the full education that we get, because there are so many things that happen on campus that you can't pay for: the life you live, the friends you make, the atmosphere, the hoopla, all the things that go along with university life," he said.
The idea to build the bell tower came when Blatchley and his wife Ruth were visiting campus to dedicate a clock in the Alumni Garden, which is west of the Lowman Student Center.
"We heard these bells go off, and they were chimes attached to the side of a building not too far from where we were," he said. "About that time, (vice president for University Advancement) Frank Holmes said, 'Someday we'll relocate those or do something with a tower,' and it just sparked a thought that maybe that's something we could do."
After "kicking around ideas" with university President James F. Gaertner and his wife, Nancy, over dinner, the Blatchleys decided that the tower would be a visible and affordable way to make another gift to the university. Longtime friends of the Gaertners, the Blatchleys met the two while living "two doors down" at the Gintz family apartments when Ron and the future university president attended graduate school at SHSU, Blatchley said.
"We wanted to do something that would be apparent to the visitor on campus, that would bring a smile to the face of the many who might hear it and then to ultimately encourage others to make gifts back to the university," he said.
An entrepreneur who worked in higher education for 20 years before ultimately moving on to the home-building business in the Bryan/College Station area, Blatchley said he and his wife are thrilled with the finished product, which was dedicated during the 2005 homecoming festivities on Oct. 8, 2005.
"It's spectacular. I know they embellished it some from what they could afford to do with the monies we gave them, so we're just absolutely delighted," Blatchley said, adding that the complete decision-making of the tower's design was left to the university's discretion.
"I've had two or three people who live here in Bryan/College Station say, 'Ron, I've been in Huntsville, and I heard the bell chimes all the way downtown,'" he said. "It's just wonderful.
"Sam Houston is one of the least supported by its former students, alumni, of any public institution in the state of Texas," Blatchley said. "So every time that bell rings, every time they hear those chimes and hopefully get chills when you hear the fight song at 5, it ought to ring the bell for somebody's thought about 'what can I do for my university?'"
Ron and Ruth, who have been married for 43 years, live in the Bryan/College Station area.
---
Sharing A Vision
When Mike Lytle attended Sam Houston State University in the early 70s, the College of Criminal Justice was a young program. At that time, the college, called the Institute of Contemporary Corrections and the Behavioral Sciences, was led by such faculty members as George John Beto, George Killinger, Hazel Kerper and Charles Friel, names that became well-known in the CJ field.
"Today's College of Criminal Justice was only a vision back in the early 70's," Lytle said.
Having a successful career in both the military and the forensics field, Lytle said he was very pleased when SHSU created a forensic science graduate program in 2004. The program is expected to begin accepting applicants for the fall 2006 semester.
His passion for the field he has worked in for 30 years and his love for the university gave him the same vision for the new program that was once held for the criminal justice program.
With that vision, he decided to establish the LTC Michael A. Lytle '77 Academic Prize in Forensic Science recognizing the top graduate student in the program with a medal, framed certificate and a cash award, as well as have his/her name placed on a plaque to hang in the Criminal Justice Center.
"I have a strong affinity for Sam Houston, of course. I give them a lot of credit for some of my successes in my career, providing a base for all that," Lytle said. "My intent is for it to be the premier award for the forensics program and that it's another level to the many things that contribute to the success of the forensics program. It's a reward for excellence."
Though Lytle attended two other universities, and received degrees at both, he feels his closest ties are at SHSU.
"It's still got that solid kind of core values about it that I like," he said. It's hard to communicate because I's more of a feeling that I have. Establishing the award is sort of my payback by providing a future in the field of forensics."
Lytle said he hopes the university's forensics program grows to the same level of prestige associated with such universities as George Washington and Virginia Commonwealth, universities that Lytle has close ties with and have very solid programs.
"My ideal is that Sam Houston's program will achieve that kind of visibility and stature as it grows and matures," he said.
An adjunct faculty member at Marymount University in Arlington, Va., where he helped establish a forensics program, Lytle said he is constantly referring students to SHSU.
"One of my former undergraduate students from Marymount is finishing her master's (in criminal justice at Sam); I referred her down to Sam," he said. "I'm hoping I can take some of my forensics students and maybe refer them down there rather than into George Washington.
"I talk up the excellence of the program all the time when they finish up here," Lytle said.
In addition to his teaching, Lytle currently serves as a senior research associate at Science Applications International Corporation, where he researches things such as border security, financial crime and money laundering, drug smuggling, and homeland security.
He also recently completed studies for the Office of the Undersecretary of Defense (Intelligence) on intelligence policy and the National Institute of Justice on terrorism and transnational crime.
---
A Lifelong Dedication To Education Honored
Anyone who has ever loved or been loved by a grandparent knows how precious and strong the bond can be in a grandparent-grandchild relationship.
To honor the memory of his grandparents, David Haralson and his wife Dolores of Hobe Sound, Fla. have established the Olive and Edgar May Education Endowment Fund to provide financial assistance to an undergraduate student majoring in any program within the College of Education. Preference is given to students from Trinity.
"My grandmother was a teacher and administrator for Trinity schools for many years," said Haralson, "and both my grandparents made significant contributions to the Trinity community."
Olive was a graduate of Sam Houston State University. She earned a Bachelor of Arts degree in history and a Master of Education degree in elementary education. She later received a Professional Elementary School Principal Certificate, all from Sam Houston State.
As an educator, she taught in the classroom, coached, conducted spelling bees and established the Student Council. She also served as the principal of Trinity High School.
"I remember counting textbooks with her when I was very young during the hot summers to make sure there were enough for the students when they came back to school in the fall," Haralson said.
Even after Olive retired, she continued to work with school children by substitute teaching and tutoring.
Her husband Edgar was a civic leader in Trinity.
"He was involved in everything pertaining to the town, and everyone in the area knew him," said Haralson.
Edgar would open his welding shop at night for local students to decorate floats for the fair and homecoming parades and to make decorations for other occasions such as dances and school parties.
"My grandfather would also pass out buffalo nickels to the young children in town so that they could buy ice cream cones," said Haralson. "Both my grandparents were well-known and well-loved in the community. I didn't want their name to be forgotten."
Haralson's employer, United Technologies Corporation, supports a matching gifts program for scholarships, and he decided that establishing an endowment would be the perfect way to keep Olive and Edgar's name alive in the community in perpetuity while honoring their passion for education.
"We must have an educated population in order to benefit society and ensure human development," said Haralson. "What better way to honor the memory of two people who strongly believed in the importance of education than to provide academic funding for students who intend to go into the teaching profession."
The first Olive and Edgar May Scholarship was awarded this year to Brandi Carroll of Trinity.
---
McNeil (Mac) Moore
McNeil (Mac) Moore donned his number 38 jersey and stepped onto the grass of Pritchett Field in 1951. He walked off the field in 1954 as a Sam Houston graduate and record-setting champion athlete. Over fifty years later, he still holds the single game rushing record and a career record for most points. Mac continued his studies at Sam, receiving his Master's degree in 1957.
He went on to play professional football with the Chicago Bears, coach and teach, and launch a successful financial services business. When asked about his greatest achievement, Mac doesn't hesitate to acknowledge his family – wife, Bonnie and daughters, Kathy and Karen.
Retired but still very active, he remains a much-loved community leader in the small town of Center, Texas. A world traveler, Mac saw his first glimpse of the Egyptian pyramids on the back of a camel and, at the age of 72, rode the zip lines in Costa Rica.
Mac has always been a great friend and supporter of the university. In recognition of the influence Sam Houston State had on his life, he recently established an endowed scholarship.
---
Saying Goodbye To Ferol Robinson
Ferol Robinson, 88, retired Sam Houston State University vice president and mentor to hundreds of communication professionals throughout Texas and the nation, died Feb. 4 in Huntsville.
"Dr. R" retired in 1981 as vice president for university affairs. At that time his administrative responsibilities included student life, athletics, intramurals, development and fund raising, alumni relations, scholarships and endowments, special programs, student recruitment, the Lowman Student Center, information and publication services, the Sam Houston Memorial Museum, student housing, the health center, university police, financial aid, and vending.
He came to Sam Houston State Teachers College in 1938, earning both bachelor's (1942) and master's (1947) degrees.
After serving in the U. S. Army for three and a half years during World War II, he returned to Sam Houston in 1946 and married Mary Creed Engledow, who died in 2004. They had two daughters, the late Pamela Ann Robinson, and Patricia Gail Trammell.
After receiving his doctorate from the University of Missouri in 1953, he returned to Sam Houston State to direct the journalism program for 20 years, training hundreds of news men and women, teachers, public and industrial relations personnel, and journalism graduates who pursued other careers. He was co-editor of the Alumnus Magazine and faculty sponsor for the Houstonian campus newspaper. He was involved in many campus and community projects, chairing the homecoming committee from 1954 until his retirement, chairing and serving on the athletic council and serving as athletic director, as well as 10 or more other committees.
He was active in the Huntsville community, serving two terms on the Huntsville City Council and two terms on the board of directors of the Huntsville Walker County Chamber of Commerce. He also served three terms as a member of the administrative board of the First United Methodist Church, was a member and treasurer of the campus Wesley Foundation, and president of the First United Methodist board of trustees.
His students loved him because he always had time to listen to a problem, give advice, or help them through a financial or emotional crisis. He was a rare combination of teacher/father to hundreds of journalism majors and minors.
He was a gifted writer who could turn a phrase but never turned away a student. Although he had a big office and broad responsibilities when he retired in 1981, he said that his happiest days were in the Houstonian newsroom "mole-hole," teaching, advising and producing publicity on Sam Houston.
Even after his retirement, he helped many students through the several scholarships established in his honor by former students. Since February, many additional donations have been made to the Ferol Robinson Endowment through the Office of University Advancement; Box 2537; Huntsville, TX 77341-2537.
---
It's A Grand Slam!
A $1 million gift to SHSU from Houston entrepreneur and renowned philanthropist Don Sanders--- a member of the university's Class of 1958---was officially recognized on this spring with the dedication of the Don Sanders Baseball Stadium.
Friends and family of Sanders were on hand to help celebrate the occasion, including baseball Hall of Fame pitcher Nolan Ryan, former Texas governor Mark White, and former Astros player Terry Puhl.
"When we were looking into naming the baseball field, we had several criteria in mind," head baseball coach Mark Johnson said.
"We wanted the person to be an alumnus of Sam Houston State, we wanted someone who was interested and involved in baseball, and we wanted someone with integrity, credibility and strong character to reflect what we want to do here for our baseball program," he said. "Mr. Sanders was a perfect fit."
The $5.5 million facility includes not only the stadium, but also spacious dressing areas, indoor hitting cages, lights, and coaches' offices. It is the newest baseball complex in the Southland Conference.
Sanders is founder and chairman of the investment firm Sanders Morris Harris. He is a former owner of the Houston Sports Association and the Houston Astros Baseball Club and currently, along with Ryan, is co-owner of Ryan-Sanders Baseball. Ryan-Sanders Baseball owns the Astros' Class AAA Round Rock Express and Class AA Corpus Christi Hooks.
Sanders is a leading figure in Houston in a variety of civic, corporate and financial enterprises. His board affiliations include the Nolan Ryan Foundation, the DePelchin Children's Center, and the Houston Museum of Fine Arts. In 2001, he was named Houston Interfaith Charities' "Sportsman of the Year."
"Baseball is a big part of my life," said Sanders. "I feel that the gift to Sam Houston State can have a substantial impact on the university and the baseball program not only today, but also in the future."
Sanders also complimented the hiring of new SHSU head baseball coach Mark Johnson.
"The addition of Mark Johnson brings credibility to the baseball program," said Sanders. "He is a class act for any university."
University officials expressed great appreciation for Sanders's donation.
"This generous gift will benefit the Bearkat baseball program for evermore," said SHSU President Jim Gaertner. "It will also perpetuate the name of one of our most distinguished alumni."
---
Memorializing The Spirit Of Giving
Tom Thweatt III had an overriding passion to help others and lived a life that held no regrets.
"He appreciated each day and didn't worry too much about the next, but for every day his prayer was always that God provide him an opportunity to help someone," said his father W.T. "Tom" Thweatt Jr. "That's the way he lived."
A "brilliant" but "low-key" young man who never bragged about his accomplishments, Tom received a bachelor's degree in psychology with honors from Texas A&M University in only three years.
After working in the restaurant business, he decided to return to A&M for a Master of Business Administration degree. Although Tom completed his graduate studies, it was toward the end of the program that "he realized his heart was really in spiritual counseling," according to his father.
Tom's life goal of helping others brought him to Sam Houston State where he joined the master's program in counseling. On March 9, 2005, just months away from graduating, Tom was killed in an automobile accident. He was 29 years old.
In August, when Tom would have graduated, Sam Houston awarded the degree to him posthumously. Ann Marie, his wife and "soul mate," to whom he had been married exactly 19 months on the day he died, walked across the stage to accept the diploma.
Choosing "to keep his name alive," Thweatt and his wife Lou established the W. Tom Thweatt III Memorial Graduate Fellowship Endowment Fund for "people like Tom who share similar aspirations and career goals," Thweatt said.
After the endowment was established, the level and number of contributions from friends, peers and colleagues, including SHSU faculty members, far exceeded the average contributions made to a student "in memory gift," according to Darlene Andrews, director of donor relations for University Advancement.
The room in the Jack Staggs Clinic where Tom did most of his counseling has since been named in his honor. In addition, his fellow classmates planted a crepe myrtle tree on the north side of the clinic in his memory. A plaque marks the tree.
"It wasn't in his nature to just talk about helping people; his nature was to actually take action and help people," Thweatt said. "That's what gave Tom satisfaction: waking up in the morning and thinking about his day, who he could interface with and how he could touch them."
Planned Giving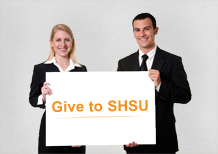 SHSU Main Campus
1806 Avenue J
Huntsville, TX 77340
(936) 294-1111
(866) BEARKAT
The Woodlands Center
3380 College Park Drive
The Woodlands, TX 77384
(936) 202-5000
University Park
20515 SH 249
Houston, TX 77070
(281) 290-2900